Why choose a diamond flower ring?
A diamond flower ring will always be the center of conversation. They are versatile and can be given on any occasion and not just as an engagement ring.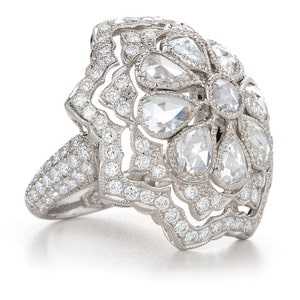 In the same way that women view roses as the flower of love; how much more the combination of diamonds and roses?
In the recent past and even with some women today, the first rose given to a woman was hidden inside her favorite book or in a folder.
This was to remind her of her first love and that he actually cared enough to buy her flowers.
Flowers still hold the same romantic place in women's hearts as they always have and guess what, so do diamonds.
A combination of the two is in vogue right now and diamond flower rings have been featured in Sex and the City.
This was in the first movie where Samantha was outbid by her boyfriend Smith on a stunning flower ring who then gave it to her.
It was reputed to be worth $50,000 & was created by a Filipina jeweler!
Now that's romantic!
How do you get flowers on rings?
Flower rings can be fashioned in contemporary rings, filigree and art deco rings.
In art deco ring, the flowers design can be incorporated in to the metal using gemstones, diamonds and the metal.
One or more flower blooms and complicated vines are fashioned in filigree engagement rings while the knot patterns on celtic rings can be woven together to mimic flowers.
Alternatively, small flowers can be engraved on the outside of the ring.
The most popular setting for flower rings is the prong setting.
This is because it enables diamonds and gemstones to be placed inside the flower petals securely.
This is doubly so when roses or a closed petal design is being used on a diamond flower ring.
Bezel settings can be used when you require a smooth or engraved surface for flower petals on a ring.
Channel settings can be used to represent leaves or the flower stalk.
As far as metals are concerned, different ones are used together to emphasize different details on the flower rings.
Rose gold is used quite extensively as it is great for highlighting petals while platinum and white gold are preferred as base metals as the offer a neutral background on which to base the ring design.
---
Home | Unique Rings | Flower Ring