Anniversary Diamond Rings
SHOW YOUR WIFE YOU CHERISH HER WITH ANNIVERSARY DIAMOND RINGS
When is the appropriate time to start thinking of anniversary diamond rings?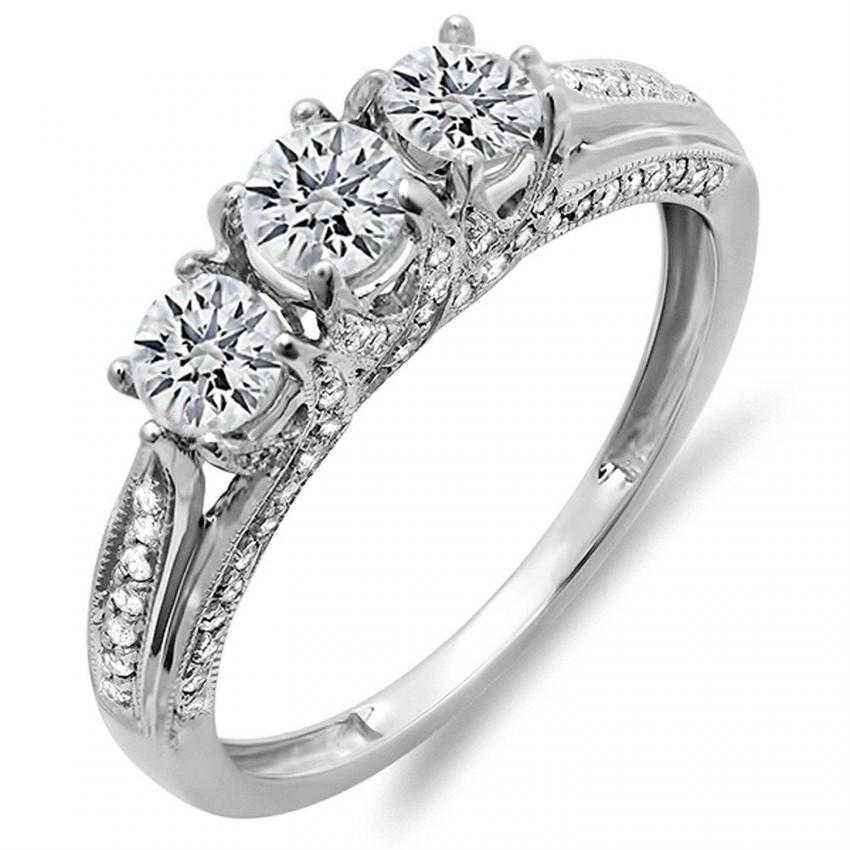 Well if you've been married for more than a year then that's long enough.
You shouldn't necessarily wait until you've been married for 10 years to spring an anniversary on your wife.
If it's within your budget, go for it.
I am a big believer in marriage and any token that will show your wife that she is loved and appreciated is always welcome.
Why not let it be a diamond ring. You'll definitely have scored some major points…
So what do you look for when shopping for anniversary diamond rings?
Well you have quite a huge choice of rings to choose from; the most important thing to look for is quality.
You'd rather not get the ring if it's not up to par.
As most married men know, women have a long memory & unless you want to be subtly reminded for years to come that you bought a nasty ring, take your time with this.
It's an anniversary diamond ring; it reminds you of a major milestone in your journey together so make it count.
You'd be better off taking her for dinner at her favorite restaurant or taking her on a surprise shopping trip than coming up short.
Okay enough of my ranting.
You can get a channel set diamond ring with precious stones all around the ring.
A nice touch would be to find out what her birth stone is and have it inter spaced with diamonds.
I hear your brain churning, what are birthstones? Various gemstones are associated with different months of the year.
According to the American National Association of Jewelers, the official birthstone list is as follows; January – Garnet, February – Amethyst, March – Aquamarine, April – Diamond, May – Emerald, June – Pearl/moonstone, July – Ruby, August – Peridot, September – Sapphire, October – Tourmaline/Opal, November- Citrine/Yellow Topaz and December – Blue Topaz/Turquoise.
So if your wife was born in say August, get her a ring that has Peridot and inter space it with diamonds so you have Peridot-diamond, peridot-diamond etc.
Another fabulous choice for anniversary rings would be 3 stone rings. The three stones on the ring represent the past, present and the future of your relationship.
They make a powerful statement especially if you make the right presentation & offer them as an anniversary ring.
The beauty of these rings is that they don't have to cost you a years' salary.
You can have the center stone as a diamond then have the two other stones being gemstones like sapphire, tanzanite or aquamarine.
This will cut down the cost considerably.
Having the ring set in white gold as opposed to platinum will also save you a bundle but if you've got money to burn, go all out & splash out on three diamonds and platinum as your diamond ring setting.
If your wife has a thing about butterflies, then butterfly rings is another option to consider as anniversary rings.
You can get these rings in a variety of designs, with various setting and stones again depending on your budget.
These rings are very feminine and bring out the girl in any woman unless she has a phobia for butterflies!!
For all the above mentioned rings, you can save money (for those of you who might want to) by opting for low quality diamonds i.e. From H – K color and VS1 included diamonds.
This will help you to save money on your anniversary diamond rings.
Having started off so strong, I wouldn't like to leave you thinking that unless you have a six figure income, you can't consider buying anniversary rings.
I am aware that not everyone can afford the high end diamonds and rings but put a smile on your face. There is a solution…
If you really feel that you need to get an anniversary ring for your wife & funds are low, you can opt for replica diamond anniversary rings.
They look just like the real thing and some are even set in low carat yellow or white gold.
The major difference is that instead of a diamond, you'll get a cubic zirconium as your stone.
The difference in price is like night & day and since your wife knows your financial situation, she'll love you all the more that you went to the trouble of getting her an anniversary ring.
---
Diamond Info |Pearl & Diamond | Anniversary Rings